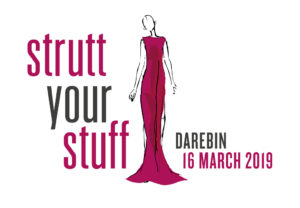 Strutt Your Stuff Darebin 2019 was another fun, inclusive evening of fashion and creativity: a celebration of self-expression, individuality and the power of re-using and recycling. SYS 2019 took place in Thornbury in the City of Darebin on Saturday 16 March at Span Community House.
This great event/project was led by Angela Pollock and Sheena Mathieson, supported by a diverse group of passionate volunteers, with support from the City of Darebin, the Brotherhood of St Laurence, Span Community House and other sponsors.
We are super proud that the feature film about Strutt Your Stuff Darebin 2019 is now available on Youtube (see below). This film has been made by Rachel Wood with the support of the Brotherhood of St Laurence, and showcases what Strutt Your Stuff is about, the community involvement and how the event has been able to become such a great success.
If you would like to find out more contact
Angela 0431 451 768
Sheena 0418 506 942
or email Sheena here
Visit our Facebook feed
and check out our Instagram feed